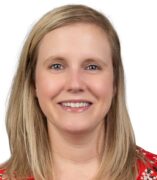 Jessica M Elste

Clinical Assistant Professor/Clinical Pharmacist, Drug Information Group
Clinical Assistant Professor/Clinical Pharmacist, Pharmacy Practice
Contact
Building & Room:
Suite B12
Address:
833 S. Wood Street, Chicago, Illinois, 60612
Office Phone:
Email:
Selected Publications
Zacher JM, Cunningham FE, Zhao X, Burk ML, Moore VR, Good CB, Glassman PA, Aspinall SL. Detection of potential look-alike/sound-alike medication errors using Veterans Affairs administrative databases.. American journal of health-system pharmacy : AJHP : official journal of the American Society of Health-System Pharmacists. 2018;75(19):1460-1466. doi:10.2146/ajhp170703.
Carpenter DM, Lavigne JE, Roberts CA, Zacher JM, Colmenares EW. A review of suicide prevention programs and training policies for pharmacists.. Journal of the American Pharmacists Association : JAPhA. 2018;58(5):522-529. doi:10.1016/j.japh.2018.05.004.
Education
PGY2 Medication Use Safety Pharmacy Residency, , Veterans Health Administration Pharmacy Benefits Management/Center for Medication Safety, Hines, IL
PGY1 Pharmacy Residency, , NorthShore University HealthSystem, Skokie, IL
PharmD, , Rosalind Franklin University of Medicine and Science, North Chicago, IL
Licensures and Certifications
, Board Certified Pharmacotherapy Specialist, 2017